Well, this is unfortunate and sad to watch.
The relationship between Glenn Beck and Sarah Palin, two mega stars in the pro-liberty, pro-American, pro-Constitution Tea Party movement, has always seemed to be one of mutual admiration and respect, at least to the casual observer watching their interviews together over the years.
That has now officially changed.
On Thursday, founder of The Blaze, leading radio talk show host and best-selling author Glenn Beck, has on multiple occasions said that he is no fan of Donald Trump's presidential candidacy because of what Beck said last month on Hannity was Trump's "horrendous" record on conservative principles.
"I'm really trying to understand how conservatives can look at Donald Trump's record, which he himself self-identifies more as a Democrat than as a conservative or a Republican, and say, 'That's our guy,'" Beck explained to Hannity. "I just don't understand it, because his record is horrendous when it comes to conservative principles.
Even though Palin hasn't officially endorsed anyone in the GOP presidential primary, Beck went off over Palin's approval of Trump's candidacy, calling her a "clown" and expressing regret that he ever supported her:
Yeah, I'm going to say it. I don't care what Sarah Palin says anymore. Sarah Palin has become a clown. I'm embarrassed that I was once for Sarah Palin. Honestly! I'm embarrassed!

Why do I say that about Sarah Palin? How could you possibly say that about Sarah Palin? Because I don't know who she is anymore. I don't know what she stands for.

I saw a clip of her talking to Donald Trump. What the hell is that? I don't even know who she is anymore.  I don't know what she stands for. I don't know. She doesn't know what I stand for. We had a falling out long ago because she listened to people who were lying to her about me. Fine, I don't care. I don't care."
Beck's statement that they "had a falling out long ago," means there's much more going on below the surface than Palin's cozy relationship with Trump.
A review of Palin's Facebook page, where she does much of the communication with her over 4.5 million followers, reveals that she has not yet responded to Beck's attack.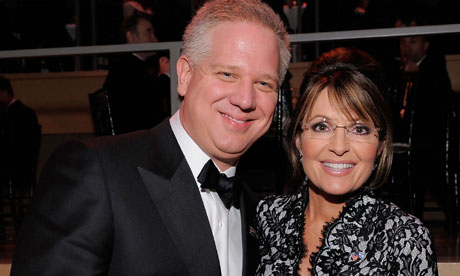 Sarah Palin and Glenn Beck, when they were on good terms.
WATCH BELOW: